IEAGG: Cemblend IEAFF Presentation [May 2009]
Cemblend was invited to speak at the IEA Greenhouse Gas R&D Programme Wellbore Integrity Network meeting here in Calgary May 13+14, 2009.
(http://www.co2captureandstorage.info/networks/wellbore.htm)
CADE: Cemblend Luncheon Presentation [Oct 2008]
Calgary-based Cemblend Systems Inc was asked to present at the Canadian Association of Drilling Engineers luncheon on Tuesday October 7th, 2008.
EnergyTV: Concrete Innovation [Feb 2008]
Calgary-based Cemblend Systems Inc. has created a cement blend that is impermeable, environmentally friendly and cost efficient. President of the company, Don Getzlaf explains two different chemicals come together and react to form an impermeable rock type material.
New Technology Magazine (NTM): Nov 2007
Ceramic cement offers cost effective solution for zonal isolation. [Cemblend] can offer more efficient and economic solution to isolation of these problematic zones.
Oil & Gas Network Publication: June 2007
Ceramic cement forms new bond in industry The drilling sector will soon extol the environmental benefits of ceramic cement.


Microceramic
Shallow wells have BHT's as low as 5 degrees Celsius and conventional Portland cements have inhibited set times at these very low temperatures. Microceramic will will set at...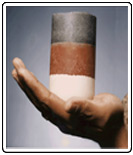 DuraSeal
DuraSeal an ideal solution for controlling lost circulation and crossflows. DuraSeal is a two component system and this unique feature allows ...


Cemblend Systems Inc. was formed to provide unique cementing solutions to the Oil & Gas Industry. The founders of Cemblend have vast operational and technical experience in the Oil & Gas industry which allows them to craft unique solutions for their customers.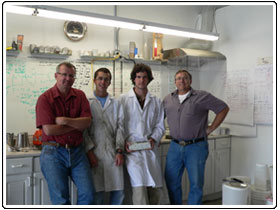 The prime focus of Cemblend Systems Inc. has been to further develop a ceramic cementing system developed by Arun Wagh of the Argonne National Laboratory. The material was initially developed to encapsulate nuclear waste and the principals of Cemblend saw these unique features and realized that they could be utilized in the Oil Industry for a multitude of purposes.




Cemblend Systems Inc.
222, 11929 40th Street SE Calgary, Alberta, Canada
T2Z 4M8

Tel: (403) 816-1011
Fax: (403) 225-3485

Email: info@cemblend.com



Cemblend provides advanced cementing technologies including ceramic cements under the trade names of DuraSeal and Microceramic systems.